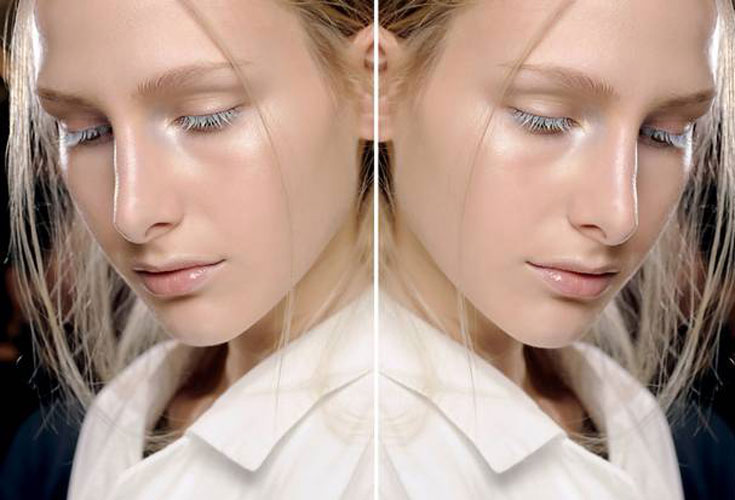 image source: mimichatter.com via google images
Strobing is a new makeup technique that has recently come into play as oppose to contouring. Contouring involves using cool grey/brown (generally, although I understand it depends on the skintone) powders to create shadows that will change or enhance certain facial features, whether that's slimming down the nose, hollowing out and therefore pronouncing the cheekbones, or carving out the jawline and temples. The idea is then that you'd use a highlighting powder to emphasise the high points of your face, focusing on the features you carved out when contouring.
Strobing, however, means you have to ditch the contour, and go all out with the highlight, to the point where your face simply glows all over. The idea is to cast a healthy, almost wet-look, natural radiance that 'comes from within'. I suppose the term comes from the fact that your face kind of turns into a strobe light when the highlighting powder catches the light. When highlighting, you'd dust the powder over the tops of your cheekbones, down the bridge of the nose (and fan that out above the bridge into the forehead slightly), along the brow bone just above the socket of your eye, in the inner corners of the eye to brighten and finally on the cupid's bow to make the lips appear fuller.
All these steps would still be carried out, but the highlighting doesn't stop there in strobing. Highlight in a V shape your under eyes (once you have concealed, so as not to draw attention to any dark rings), highlight just above the jawline, all the way along the bone and including the chin. Finally, highlight broadly across your entire forehead, paying close attention to the arch above your eyebrows. If you are going to use a blush, make it as shimmery and glowy as possible, and to emphasise the radiant look even further, you could mix a liquid highlighter into your moisturiser, or use something like MAC strobe cream.
But stop. Something I must mention is that before you attempt any kind of strobing, you must make sure you have a good base, and more importantly, a decent highlighter. Don't use one that only draws attention to any pores or spots; this technique will work better with a more flawless base, whether that's naturally or with a good coverage foundation.
My thoughts on strobing are that I can't see it taking the makeup world by as much storm as contouring has - contouring is such a widely used technique that I definitely think it will stick around for a lot longer than strobing will, and I can't see it fizzling away anytime soon. Strobing is new, and fun to play around with, but in my opinion, I just don't think it's as good of a technique, and I really don't think it's as flattering. That is, when contouring is done right.
CONTOURING
image source: sienna-x.co.uk via google images
pros
useful for slightly changing your face shape by slimming it down or carving out desirable features, and raising those points with a subtle highlighting powder
cons
the line between a bronzer (generally a shimmery, warmer toned product that bronzes and warms the skin) and a contouring product (usually a matte, cool toned powder) is so thin it almost doesn't exist anymore. If contouring is done wrong, it can look like a muddy wotsit streak across the face
STROBING
image source: firstworldbeauty.wordpress.com via google images
pros
can give the face a gorgeous, glowing and naturally radiant look if done correctly
cons
it can make the face appear oily and excessively shiny. It's probably a technique that people with oily skin should steer clear of.
So, those are my thoughts on strobing, and how it compares with contouring.
What are your opinions?
❤️